List of Velodromes in Sydney - with links & details
At CoachRec, we put coaches and athletes first. Our articles remain unsponsored and independent, underscoring our commitment to a knowledge-driven platform not influenced by commercial interests.
List of Velodromes in Sydney
When it comes to track cycling in Sydney, athletes have a small but diverse range of options. Whether you're a seasoned cyclist or new to the sport, these velodromes offer a unique platform to gain fitness, hone your cycling skills, and enjoy a sense of community.
---
Canterbury Velodrome
Source: Bundit Minramun
Link to website: https://www.cbcity.nsw.gov.au/explore/sports-recreation/sporting-and-recreation-facilities/velodromes
Our first stop is the Canterbury Velodrome. Made of concrete and spanning 333 meters, features corners banked to a maximum of 32 degrees. It's located at Bayview Avenue, Earlwood, NSW. 
The Canterbury Velodrome is a beloved spot for Dulwich Hill Bicycle Club (DHBC) members. They host regular weekly training sessions, welcoming riders of all ages and skill levels. The sessions are on Monday and Wednesday evenings, with warm-up starting at 6:30pm on Mondays and juniors starting at 5pm on Wednesdays. Session fees charged by DHBC are $10 for the first session of the week and $5 for subsequent sessions.
There is no racing requirement at Canterbury, and many riders come purely to enjoy the drills and push their limits. However, for those interested, events range from individual and team time trials, points races, match sprints, Madisons, Keirins, and more. DHBC supports and equips riders to enter races confidently.
Link to DHBC Track Cycling website: https://www.dhbc.org.au/track-cycling
---
Lidcombe Oval Velodrome
Source: Neo Cycling Club
Link to website: https://www.cumberland.nsw.gov.au/lidcombe-oval
Next on our list is the Lidcombe Oval Velodrome, home to a slightly banked, outdoor 426m track. It is located on Church St, Lidcombe (within walking distance of Lidcombe Railway Station) and is a favourite among cyclists seeking a larger, outdoor velodrome experience. 
Both Lidcombe Auburn Cycling Club (LACC) and Neo Cycling Club (NCC) organise training and racing at Lidcombe Oval Velodrome. NCC runs track training on Wednesday evenings from 5:45pm between April and September. Enquiries about LACC's track program can be directed to enquiries@lacc.org.au. 
Link to NCC website: http://neocycling.org.au/
Link to LACC website: https://lacc.org.au/
---
Hurstville Velodrome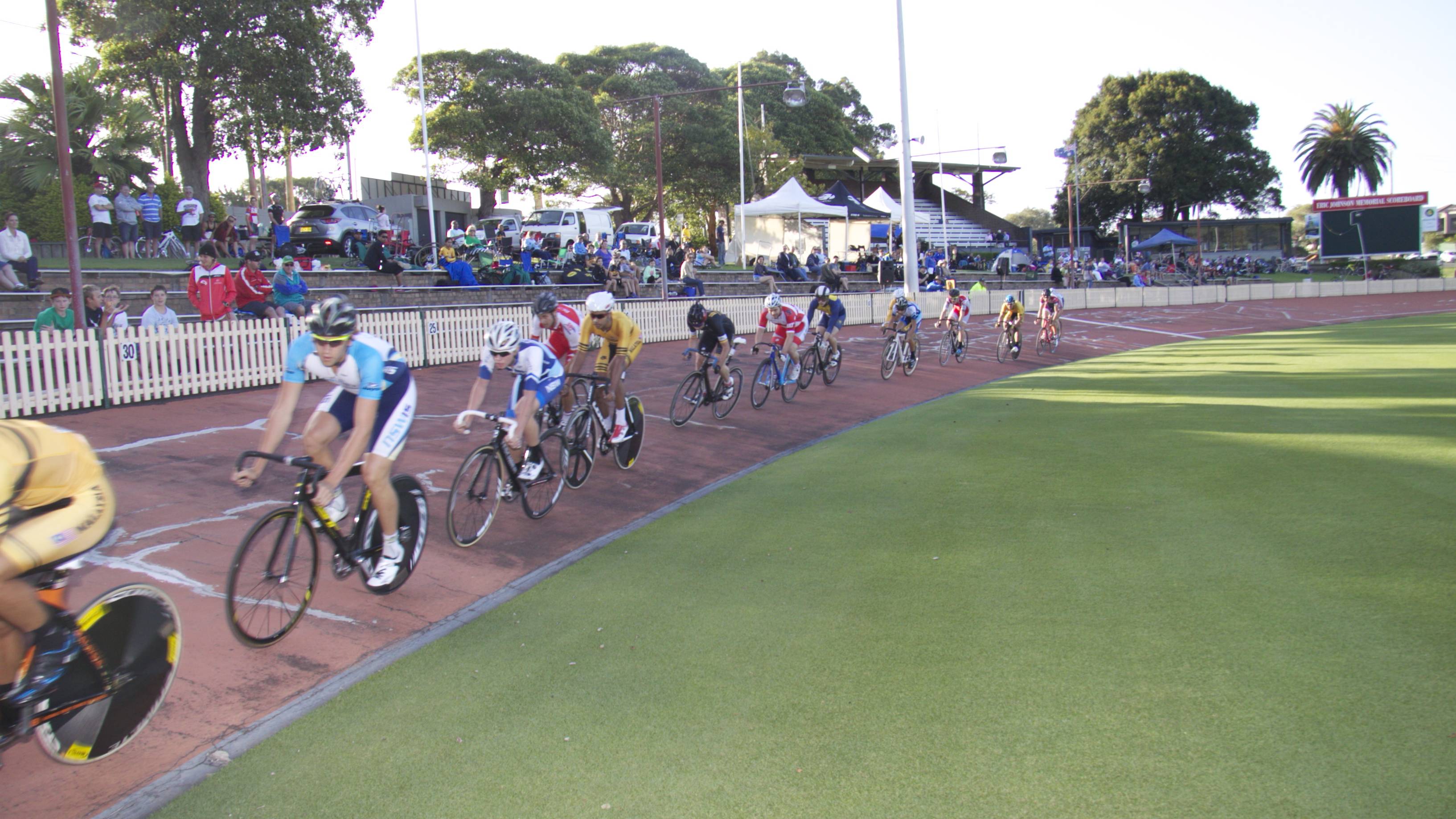 Link to website: https://www.georgesriver.nsw.gov.au/Services/Parks-and-Recreation-Spaces/Sportsfields
Hurstville Oval Velodrome is an outdoor velodrome located at 30 Dora St, Hurstville. It is the home of St George Cycling Club (SGCC), which started competition at the oval in 1906 and has since cultivated numerous athletes who have gone on to be selected to compete in the Commonwealth and Olympic Games. 
SGCC continues to host track training and racing at the velodrome. Training takes place at 6:30pm on Monday evenings and 7pm on Thursday evenings (100 laps).  Racing occurs between October and March each year, with details to be found on the SGCC Facebook page. 
Link to SGCC website: https://stgeorge.cycling.org.au/
---
Dunc Gray Velodrome.
Link to website: https://www.auscycling.org.au/page/sport-development/facilities-dunc-gray-velodrome
Last but certainly not least is the Dunc Gray Velodrome, an iconic cycling venue and the only indoor velodrome in NSW. Dunc Gray Velodrome is located at Crest Sporting Complex on Carysfield Road, Bass Hill and features a 42-degree track bank and a 12.5-degree straight bank. As the cycling hub for the 2000 Olympic Games, this velodrome is steeped in history and prestige. 
Cyclists at all levels, from elite athletes to club members and school students, can train and compete at the Dunc Gray Velodrome. Alongside training for high-performance cycling, it promotes sports development and hosts various competitions. It was a key site for track cycling during the Sydney Olympics and Paralympic cycling events, reinforcing its status as a pivotal location in Sydney's cycling landscape.
Sydney's velodromes offer a blend of heritage, world-class facilities, and a welcoming environment. They present a fantastic opportunity for cyclists to improve their skills, compete, and become part of a vibrant community.